Blockchain Supply Chain Market Size And Forecast 2026:
According to Business Research Reports, the Global Blockchain Supply Chain Market was valued at USD 145.8 Million in 2018 and is projected to reach USD 19,122.02 Million by 2026, growing at a CAGR of 83.52% from 2019 to 2026.
The latest survey on Global Blockchain Supply Chain Market is conducted covering various organizations of the industry from different geographies to come up with a 100+ page report. The study is a perfect mix of qualitative and quantitative information highlighting key market developments, challenges that industry and competition are facing along with gap analysis and new opportunities available and trend in Blockchain Supply Chain Market. The report aims to present the analysis of Global Blockchain Supply Chain Market By Industry Vertical, By Application, By Region – North America, Europe, South America, Asia-Pacific, Middle East, and Africa. The report intends to provide cutting-edge market intelligence and help decision makers take sound investment evaluation. Besides, the report also identifies and analyses the emerging trends along with major drivers, challenges and opportunities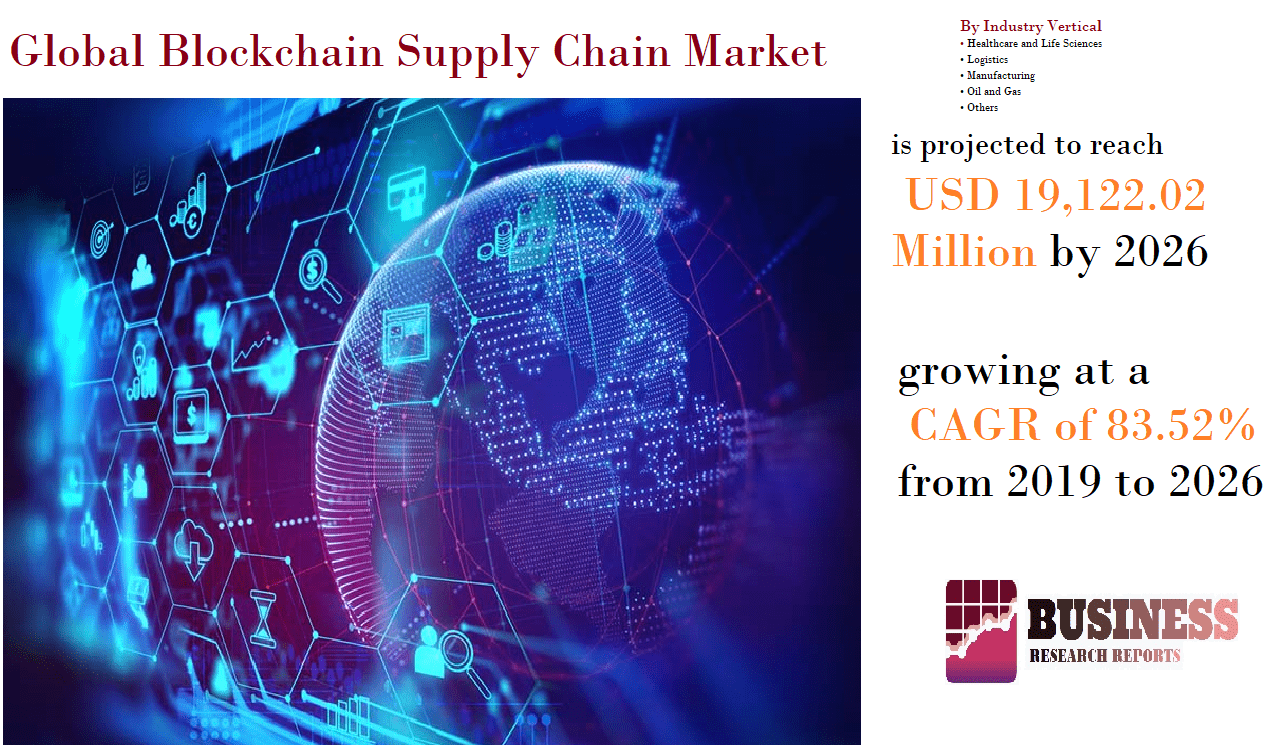 What is Blockchain Supply Chain?: The blockchain is a system of records of digital databases or blocks of validated transactions. It synchronizes all transactions and data across the supply chain network instead of being managed by a central intermediary. A supply chain management is an activity which is used to plan, control and execute a product flow for raw material and manufacturing in a cost-effective way. Blockchain is used in the supply chain for cost reduction, provenance tracking and establishing trust. The blockchain supply chain market is witnessed to have innovative and advance transformation, which allows the participants to access everything they want on a single platform.
Global Blockchain Supply Chain Market Outlook: In the report, the market outlook section mainly encompasses the fundamental dynamics of the market which include drivers, restraints, opportunities, and challenges faced by the industry. Drivers and restraints are intrinsic factors whereas opportunities and challenges are extrinsic factors of the market.
An increase in the need for the proliferation of e-commerce, a rise in demand for enhanced security of supply chain transactions, and the need for supply chain transparency are the major factors boosting the growth of the blockchain supply chain market. Moreover, several start-ups and IT players have initiated the promising pilot projects. For instance, in July 2019, Nestle announced that it would pilot the open blockchain technology for tracking its products along the supply chain. However, lack of awareness regarding this technology and shortage of skilled workforce is deterring the growth of the blockchain supply chain market.
Business Research Reports narrows down the available data using primary sources to validate the data and use it in compiling a full-fledged market research study. The report contains a quantitative and qualitative estimation of market elements that interests the client. The "Global Blockchain Supply Chain Market" is mainly bifurcated into sub-segments which can provide classified data regarding latest trends in the market.
Global Blockchain Supply Chain Market Competitive Landscape: The "Global Blockchain Supply Chain Market" study report will provide a valuable insight with an emphasis on global market including some of the major players such as Auxesis Group, AWS Inc., BTL Group, Huawei Accenture Plc., IBM Corporation, Microsoft Corporation, Oracle Corporation, SAP SE, TIBCO Software, and Bitfury. Our market analysis also entails a section solely dedicated to such major players wherein our analysts provide an insight to the financial statements of all the major players, along with its product benchmarking and SWOT analysis. The competitive landscape section also includes key development strategies, market share and market ranking analysis of the above-mentioned players globally.
Global Blockchain Supply Chain Market, By Industry Vertical
Healthcare and Life Sciences
Logistics
Manufacturing
Oil and Gas
Others
Global Blockchain Supply Chain Market, By Application
Counterfeit Detection
Payment & Settlement
Product Traceability
Risk & Compliance Management
Others
Global Blockchain Supply Chain Market Geographic Scope
North America
Europe

Germany
UK
France
Rest of Europe

Asia Pacific

China
Japan
India
Rest of Asia Pacific

Rest of the World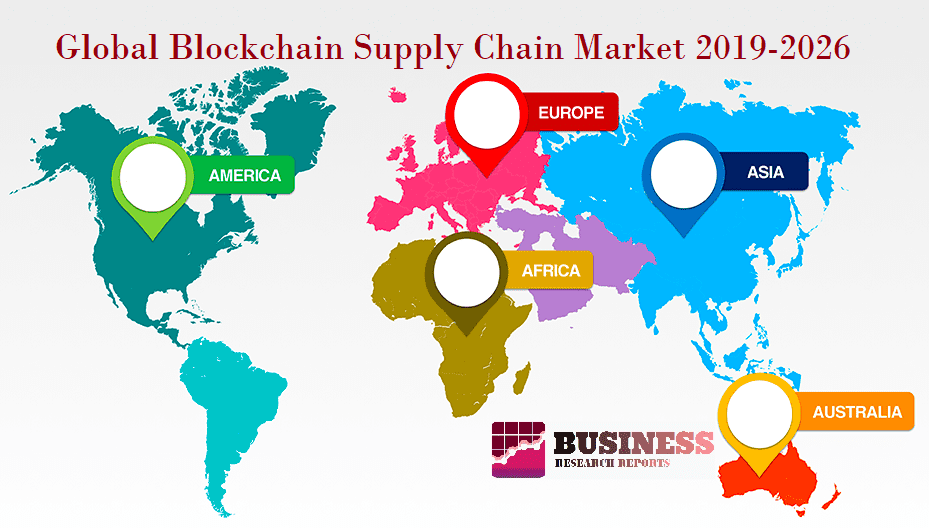 Reasons to Purchase this Report
Qualitative and quantitative analysis of the market based on segmentation involving both economic as well as non-economic factors
Provision of market value (USD Billion) data for each segment and sub-segment
Indicates the region and segment that is expected to witness the fastest growth as well as to dominate the market
Analysis by geography highlighting the consumption of the product/service in the region as well as indicating the factors that are affecting the market within each region
Competitive landscape which incorporates the market ranking of the major players, along with new service/product launches, partnerships, business expansions and acquisitions in the past five years of companies profiled
Extensive company profiles comprising of company overview, company insights, product benchmarking and SWOT analysis for the major market players
The current as well as future market outlook of the industry with respect to recent developments (which involve growth opportunities and drivers as well as challenges and restraints of both emerging as well as developed regions
Includes an in-depth analysis of the market of various perspectives through Porter's five forces analysis
Provides insight into the market through Value Chain
Market dynamics scenario, along with growth opportunities of the market in the years to come
6-month post sales analyst support
1 INTRODUCTION OF GLOBAL BLOCKCHAIN SUPPLY CHAIN MARKET
1.1 Overview of the Market 1.2 Scope of Report 1.3 Assumptions
2 EXECUTIVE SUMMARY
3 RESEARCH METHODOLOGY OF Business Research Reports
3.1 Data Mining 3.2 Validation 3.3 Primary Interviews 3.4 List of Data Sources
4 GLOBAL BLOCKCHAIN SUPPLY CHAIN MARKET OUTLOOK
4.1 Overview 4.2 Market Dynamics 4.2.1 Drivers 4.2.2 Restraints 4.2.3 Opportunities 4.3 Porters Five Force Model 4.4 Value Chain Analysis
5 GLOBAL BLOCKCHAIN SUPPLY CHAIN MARKET, BY INDUSTRY VERTICAL
5.1 Overview 5.2 Healthcare and Life Sciences 5.3 Logistics 5.4 Manufacturing 5.5 Oil and Gas 5.6 Others
6 GLOBAL BLOCKCHAIN SUPPLY CHAIN MARKET, BY APPLICATION
6.1 Overview 6.2 Counterfeit Detection 6.3 Payment & Settlement 6.4 Product Traceability 6.5 Risk & Compliance Management 6.6 Others
7 GLOBAL BLOCKCHAIN SUPPLY CHAIN MARKET, BY GEOGRAPHY
7.1 Overview 7.2 North America 7.2.1 U.S. 7.2.2 Canada 7.2.3 Mexico
7.3 Europe 7.3.1 Germany 7.3.2 U.K. 7.3.3 France 7.3.4 Rest of Europe
7.4 Asia Pacific 7.4.1 China 7.4.2 Japan 7.4.3 India 7.4.4 Rest of Asia Pacific
7.5 Rest of the World 7.5.1 Latin America 7.5.2 Middle East
8 GLOBAL BLOCKCHAIN SUPPLY CHAIN MARKET COMPETITIVE LANDSCAPE
8.1 Overview 8.2 Company Market Ranking 8.3 Key Development Strategies
9 COMPANY PROFILES
9.1 Auxesis Group
9.1.1 Overview 9.1.2 Financial Performance 9.1.3 Product Outlook 9.1.4 Key Developments
9.2 AWS Inc.
9.2.1 Overview 9.2.2 Financial Performance 9.2.3 Product Outlook 9.2.4 Key Developments
9.3 BTL Group
9.3.1 Overview 9.3.2 Financial Performance 9.3.3 Product Outlook 9.3.4 Key Developments
9.4 Huawei Accenture Plc.
9.4.1 Overview 9.4.2 Financial Performance 9.4.3 Product Outlook 9.4.4 Key Developments
9.5 IBM Corporation
9.5.1 Overview 9.5.2 Financial Performance 9.5.3 Product Outlook 9.5.4 Key Developments
9.6 Microsoft Corporation
9.6.1 Overview 9.6.2 Financial Performance 9.6.3 Product Outlook 9.6.4 Key Developments
9.7 Oracle Corporation
9.7.1 Overview 9.7.2 Financial Performance 9.7.3 Product Outlook 9.7.4 Key Developments
9.8 SAP SE
9.8.1 Overview 9.8.2 Financial Performance 9.8.3 Product Outlook 9.8.4 Key Developments
9.9 TIBCO Software
9.9.1 Overview 9.9.2 Financial Performance 9.9.3 Product Outlook 9.9.4 Key Developments
9.10 Bitfury
9.10.1 Overview 9.10.2 Financial Performance 9.10.3 Product Outlook 9.10.4 Key Developments
10 Appendix 10.1 Related Research
Global Blockchain Supply Chain Market Size By Industry Vertical, By Application, By Geographic Scope And Forecast 2026